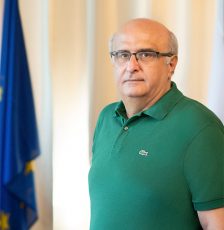 Christos Ι. Bouras
Professor, Department of Computer Engineering and Informatics
email: rector@upatras.gr
Short CV
Christos I. Bouras is Full Professor at the University of Patras, Department of Computer Engineering and Informatics. Also he is a scientific advisor of Research Unit 6 at Computer Technology Institute and Press – Diophantus, Patras, Greece. His research interests include 5G and Beyond Networks, Analysis of Performance of Networking and Computer Systems, Computer Networks and Protocols, Mobile and Wireless Communications, Telematics and New Services, QoS and Pricing for Networks and Services, e-learning, Networked Virtual Environments and WWW Issues. He has extended professional experience in Design and Analysis of Networks, Protocols, Telematics and New Services. He has published more than 450 papers in various well-known refereed books, conferences and journals. He is a co-author of 9 books in Greek and editor of 2 in English. He has been member of editorial board for international journals and PC member and referee in various international journals and conferences. He has participated in R&D projects.
More information
Rector's welcome note
Dear first-year students,
Congratulations and welcome at the University of Patras.
Serving the dual role of both the Rector and the University Teacher/University Professor who welcomes the newly admitted students, I feel twice responsible for the integrity of your studies and for imparting values and vision. The whole Rectorate Body welcomes you expecting and hoping that your thirst for knowledge, your youth passion and your revolutionary mentality will become the great incentive to further develop Science and mainly to turn the University of Patras into a "hot-bed of ideas" which is exactly what a University is all about. Apart from imparting knowledge and conducting innovative research, the University's role is to inspire its students. A "hot-bed of ideas" is developed through meaningful communication between students and between students and the Rectorate's Body. It arises from exchanging ideas on all matters and through debate on every issue. This is basically Idea Synthesis which is the result of productive dialogue. This is Dialectics, the essence of Greek Thought. You may share a fundamental problem with your co-students, with your professors, with the Vice-Rectors and with me. All doors are open for you.
Without doubt, the University is something of unknown nature to you. It may be considered as the gate to broadening horizons not only to new knowledge but also to a different way of thinking, to a new world-view. Student years determine your future life because you not only become specialized in the subject field of your choice, but you are able to learn about yourself, the way to react in a new environment and to face difficulties. Also, you make friends and fellow partners. You learn to claim your rights fairly and rationally. You learn to fight for solving common-problems related to academic community's well-functioning, defending its rights and interests, enhancing the extroversion of academia.
I do assure you that we shall be by your side on every single one of your fair and legal claims. We shall be your allies and your fellow partners. We encourage you to cease a wide-range of opportunities offered by the University.
Be restless and creative, pass on your new ideas, your enthusiasm, your inspiration and your passion. Together we shall develop and realise the vision of the University of the Future, of a contemporary University made of conscious Citizens, "Lovers" of Fairness, Transparency and Democracy. A University made of developing scientists, goal-oriented to passion about Knowledge in all its forms, to research, to innovation, to Excellence and mainly to Academic Ethos.
Times are harsh lately. The country's economy is weak. Career prospects chances are fewer. Turning difficulties into a hit-bet is the challenge. We will support you with every single opportunity given by the University.
We welcome you into an even more difficult period loomed by the pandemic which demands sacrifices and being subject to measures of physical distance, need for self-protection and protection of our fellows. We do realise that Covid-19 situation is unprecedented and hard for all. Turn it into an important challenge. Consider it as a training exercise of respect and protection not only of yourselves but of your fellows too.
Having a coordinated plan of action, organisation, hard work, determination, patience and a lot of love to our subject field, it is certain that altogether we will make it/manage!
We assure you that we shall be by your side at every moment together with your parents who we congratulate for their support.
Insist on fighting for fairness and equality.
Best wishes for a great Academic Year.
With my warmest regards.
The Rector
Christos I. Bouras
Professor – Department of Computer Engineering & Informatics