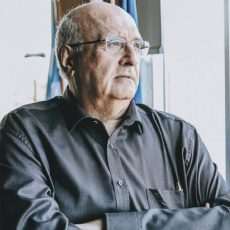 Christos Ι. Bouras
Professor, Department of Computer Engineering and Informatics
email: rector@upatras.gr
Short CV
Christos I. Bouras is Full Professor at the University of Patras, Department of Computer Engineering and Informatics. Also he is a scientific advisor of Research Unit 6 at Computer Technology Institute and Press – Diophantus, Patras, Greece. His research interests include 5G and Beyond Networks, Analysis of Performance of Networking and Computer Systems, Computer Networks and Protocols, Mobile and Wireless Communications, Telematics and New Services, QoS and Pricing for Networks and Services, e-learning, Networked Virtual Environments and WWW Issues. He has extended professional experience in Design and Analysis of Networks, Protocols, Telematics and New Services. He has published more than 450 papers in various well-known refereed books, conferences and journals. He is a co-author of 9 books in Greek and editor of 2 in English. He has been member of editorial board for international journals and PC member and referee in various international journals and conferences. He has participated in R&D projects.
More information
Rector's welcome note
Dear University of Patras members,
I welcome you to our University and wish you a fruitful academic year. In a world that is changing at full speed and in unpredictable ways, we are called upon to move steadily forward, guided by our common vision of a University-cradle of knowledge and culture, compatible with the 21st century challenges, with solidarity, meritocracy, transparency and commitment. This shall be accomplished by each one of us in our personal sphere and all together for the benefit of the University we serve.
In a University Community that aims at essential knowledge, sustainable development, excellence, high ethics and the well-being of its members, no one is left out. The participation of all University members with unanimity and empathy is a prerequisite for the achievement of any goal, either personal or collective with respect for fundamental principles, diversity, transparency, and minorities and with commitment to the common good.
Conscious that Education and Τraining are the basis of a society in order to overcome difficulties and meet challenges, let us all join in the pursuit of our common vision.
However, in this effort, it is necessary to be consistently committed to the fundamental principles and to the initial objectives that we have set with respect to the management of academic matters in order to ensure the Institution's proper functioning and the optimal implementation of the new Academic Charter.
Leaving behind bitterness, sorrows, mistakes, dogmatism and all negative elements that may stand as an obstacle, the time has come to continue our joint effort, so as to maintain the positive momentum achieved over the previous years with difficulty and to set sail for even more important achievements for the University of Patras through democratic dialogue and exchange of arguments.
Let us not forget that miracles become reality when we believe in them. After all, miracles do happen if you have eyes to see them.
As N. Kazantzakis says:
Never recognize a man's boundaries! Break the boundaries! Deny what your eyes see.  Seize and say: There is no death!
Future does not belong to violence. Future does not belong to force. Future belongs to reason, as Aeschylus wisely says in Prometheus Bound.
May we have a successful Academic Year, against mediocrity, favoritism, selfishness, and move forward overcoming attrition.
The Rector
Christos I. Bouras